Welcome....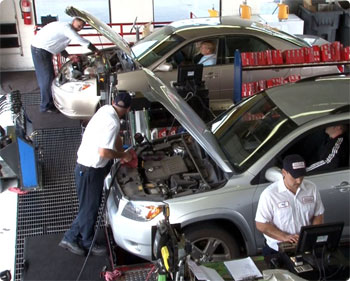 We want to welcome you to our oil change and fast lube center. Our professional, fully trained lube technicians are waiting to diagnose the need of your vehicle and clearly explain our available services. We have been in business in the Eugene area for over 30 years and pride ourselves in the finest customer satisfaction. We are a famiily owned company with a commitment to provide the very best care for your vehicle. In addition to the enclosed list of services we have many combination specials. Oil changes include up to 5 quarts of oil. We offer a free car wash, vacuum & fluid level top off. Prices may vary depending on the vehicle. All of our full services also include a free car wash & free self service vacuum. You will not find a better value in fast lube services. With our premium oil change service you receive personal attention from our professional lubrication technicians.
EACH SERVICE INCLUDES
:
Changing your oil with up to 5 quarts of quality motor oil
Installing a new oil filter & drain plug washer
Lubricating your vehicle's chassis
WE ALSO:
Inspect Serpentine belts
Investigate any problems under the hood
Make under chassis visual inspection.
OUR TECHNICIANS INSPECT AND TOP OFF:
Battery Levels
Differential levels: (front/rear)
Final Drive Fluid  
Power Steering Fluid 
TirePressure 
Transfer Case Fluid   
Transaxel  Fluid
Transmission Fluid
Windshield Wiper Fluid
OUR TECHNICIANS CHECK :
Air Filter
Cabin Air Filter
Brake Fluid Levels
Clutch Fluid
Lights
PCV FILTER
Windshield Wipers
Window Wash Reservoir
OUR TECHNICIANS ALSO:
Document date, mileage, and oil type on windshield reminder label
Record computerized service history documentations

SPECIALIZED OILS AVAILABLE AT AN ADDITIONAL CHARGE:
Delo 15/40 Conventional
Delo Synthetic
Kendall Synthetic
Mobil 1
Valvoline Synthetic
Additional Conventional Brands